Looking at Risk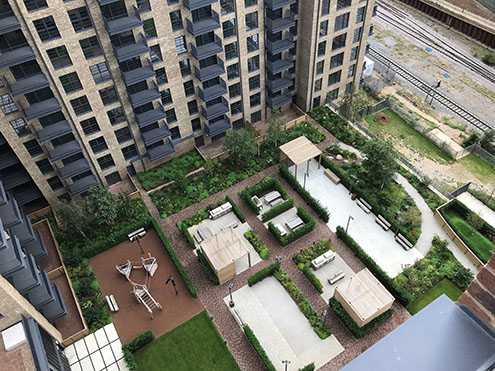 During the development of a high-rise accommodation project great care was made to look at the fire safety for the residents. These apartment blocks were built as short-term rental facilities with associated amenities to make them more attractive to people visiting or working for relatively short periods in or near central London.
The apartment blocks were designed and built to a high standard and fully compliant with the requirements for high rise accommodation as required at the time. The overall result was very pleasant. Each tower had its own concierge managing the day to day requirements of the residents. Then a question was asked about the additional features, such as planting of shrubs and in a few cases trees in the roof garden areas. There were concerns about play facilities and wooden fencing, provided at some levels for privacy of some of the apartments. There were also concerns about the provision of electric and charcoal barbeques placed in the roof gardens and available to residents. All these additional features made these apartments very pleasant places to live, but what implications were there relating to fire safety?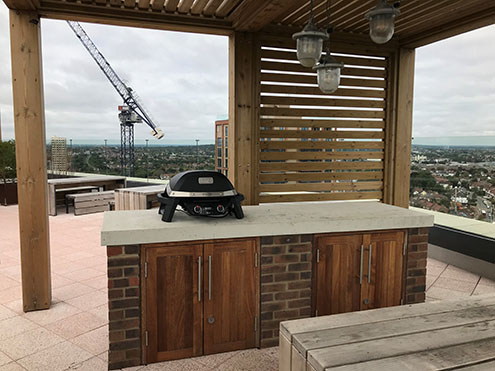 Gentle Fire Solutions acting for a safety consulting company was asked to survey all these external areas, and report on the additional level of risk delivered by all these additional features. In general terms the provisions were all restricted to residents only. All the residential blocks had concierge and security entry control. This restricted the access to all the facilities both inside and on roof garden areas. All the facilities such as barbeques, and study room facilities, all required booking through the concierge, who would make all the arrangements and ensure that all the facilities were cleaned and cleared away properly after use. There were also large timbers used to provide retaining walls for raised beds. Initiating a fire via these timbers would be very difficult and with constant CCTV coverage of these areas, unlikely to become a target for arson attack. Doing so, using the practical solutions and clear guidance given by Gentle Fire Solutions, will enable managers to deliver fire safety in a way that provides a safe environment for all those working within and using the DLR network. Just as important, it also delivers those results in a way that is sympathetic to the requirements of customers and works for the excellent team who run this service so well for Londoners and their guests. Gentle Fire Solutions. Making fire safety work for people.
Having looked in detail at all the facilities provided in this large development, it became clear that the actual residual risk delivered by the amenities provided was, due to the way they were installed and managed, quite low. With a few minor adjustments to supervision and inspection, plus a recommendation for change of a few materials in the future, the risk overall was deemed to be tolerable for all the areas surveyed.
This was a really good example of a development team asking the right questions. When they realised that the product that they were delivering entailed more than what the building regulations could be reasonably expected to provide guidance for, they sought answers. Gentle Fire Solutions was very happy to look at the fire risk from a slightly different viewpoint, so that all the additional risks and mitigations could be factored in. That way, a realistic view could be reached about the actual level of fire risk for the development. Again, the objective here was, Making fire safety work for people.